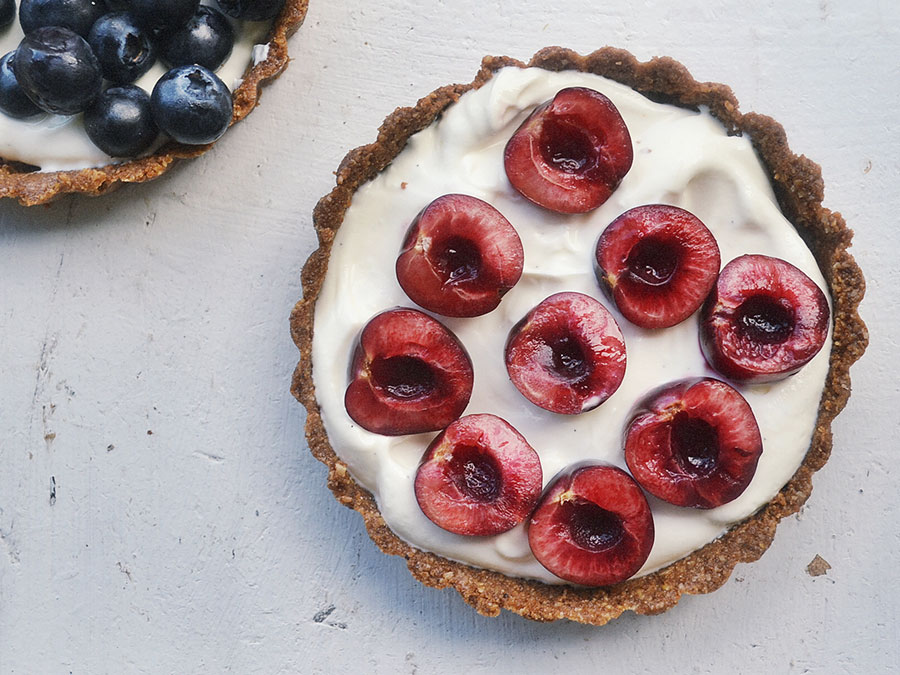 Yoghurt Tarts
5/13/2021
Ingredients
4 tubs (200g) Barambah's Yoghurts – any flavour will work, but we really like Bush Honey and Vanilla Bean for this recipe
2 cups of rolled oats
1 cup plain flour
Pinch of salt
6 tablespoons brown sugar
5 tablespoons melted butter
Zest of one lemon
Fresh fruit for topping
This recipe contains
Method
If you're organised, place the yoghurt in a fine cloth – such as a chux, muslin, or very fine strainer and leave it to drain overnight in the fridge. This will result in the yoghurt having a thicker consistency – much like making your own Labna! If you aren't planning ahead, set the yoghurt aside for now.
Preheat the oven to 180°C.
Grease and line 4 X 10cm loose-bottomed tart tins (or if just using the one flavour of yoghurt, a 25cm tart tin, or if carefully lined, you could even do this recipe in a muffin tray).
Pulse the oats in a food processor until they resemble flour.
In a bowl add the oats, plain flour, salt, brown sugar, butter and lemon zest and mix until combined.
Press the mixture into the tart tin until it's firm and even. Line the tart with baking paper and top with uncooked rice or baking beads (to prevent the base from rising).
Bake it in the oven for 30 minutes or until golden.
Remove from oven and allow to cool.
Add the Yoghurt to the tart shells (if you haven't drained your Yoghurt, add it right before serving) and top with fresh fruit.